Print: Barnstormer Art


---
The Golden Age of Aviation was the period from the end of World War I up to the beginning of World War II.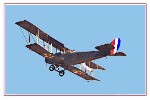 Curtis JN4D "Jenny" A Fighting Machine In 1918. Powered by an OX5 engine, Jenny's thin wings were braced with wooden struts and meticulously rigged with a maze of turnbuckled wire. 10,000 JN4Ds were produced.
Photo by Fred Sgrosso
In those years the biplane configuration predominated the aeronautical design scene. Man's fertile imagination and inherent genius sought every possible, and a few impossible avenues in trying to penetrate the upper air. Along that shaky path to perfection was a myriad of blind alleys and diversions as experiments were made with multiwing aircraft. Whether successful or not, they provided their designers with knowledge, be it beneficial or disasterous. Thus, each played a tiny part in striving toward aeronautical perfection.
US Army World War II Trainer
Stearman PT 17
The biplane age was relatively brief if placed against a backdrop of human evolution, yet within those few decades truly astonishing progress was made. From the Wright brothers' first sand-hops at Kill Devil Hill it was to be only 11 years until the opening of hostilities in Europe - World War I. The following four years provided an impetus to aircraft design and progression which might normally have extended over many more years had the period been one of peace.
BOEING 40A, 1927

Seen Here Topping the Rocky Mts, It was a combination cabin and open cockpit biplane and carried mail and 3 passengers. P &W Wasp powered.
War necessitated adaption of the fragile aircraft of the day to the grim task of destruction. Experience
in constructing and operating aircraft of the smallest and largest sizes, from land and water surfaces, carrying payloads from a few pounds' weight to several thousands of pounds, by day, by night, in
mild or extreme climates - these details in construction and use were built, flown and used during those war years.
This pointed the path to global transportation of people and goods, and led to the ever-escalating piercing of height, speed and distance barriers. With rare exceptions the vast bulk of all these facets was achieved with biplanes. Much of that accumulated experience was to bear fruit in the post-bellum era when nations reverted to more peaceful exploitation of the airways.
By 1939 and the reeruption of war in Europe, the biplane configuration was already well on the wane, with the monoplane replacing its brother in the forefront of progress. Even so, biplanes were not content merely to fade away. Several air forces had them in operational service until at least 1945 and many were put to the task as agricultural dusters.
The past 25 years or so have witnessed an extensive revival of loyalty and enthusiasm for restoring, refurbishing, or building from scratch classic biplane designs. This wave of what might be termed nostalgia merely emphasizes the constant thrill of flying in an open cockpit, surrounded by fabric and struts and the singing of flying wires.. There is no parallel in the cabin of any modern monoplane.
Curtiss Condor, 1934 - twin 700 hp Wright Cyclone radial engines. Flown by American Airways, it was regarded as the last American biplane airliner in regular service and claimed to be the first "sleeper" airliner in the world.
For sheer ecstasy of flight man needs to be in direct contact with the elements he is challenging - he must feel the wind in his face. In the present age of technically superb yet soul less aircraft, where flying for a majority of the present generation has become a packaged, effortless, boring mode of travel, perhaps this evocation of the age of real flying will give an insight to those who have never been privileged to mount the air in a real airplane.
Excerpts From 'The Age of the Biplane.' Chaz Bowyer, Norwich, 1981
MPG Movie of Pitcarin Mailwing take off - Old Rhinebeck Aerodrome [261K]
MPG Movie of Albatros take off - Old Rhinebeck Aerodrome [277K]
MPG Movie of French Stampe - Old Rhinebeck Aerodrome [1,197K]
MPG Movie of New Standard - Old Rhinebeck Aerodrome [1,197K]
This Douglas World Cruiser, No. 3, named Boston is one of four DWC's which attempted the first round-the-world flight, commencing April 6, 1924. Two DWC's failed to complete the flight (including this machine), but the other pair accomplished this record "first" successfully.




Wind In The Wires
A Golden Era of Flight

[Buy It]
Wings of Yesteryear,
The Golden Age of Private Aircraft

[Buy It]
Biplane To Monoplane,
AirCraft Development, 1919 - 1939

[Buy It]
Biplane by Richard Bach

[Buy It]
A Gift Of Wings, Also by Bach

[Buy It]
Flying Through Time
A Journey into History in a WWII Biplane.

[Buy It]
Unlocking the Sky: Glen Hammond Curtiss.

[Buy It]




Or use the following link to search Amazon for other aviation related books.

Visit Fred Sgrosso's wonderful photos of Old Rhinebeck Aerodrome
after you're done browsing here.